Scottish Nationals 2023 (26/27 Aug St Marys)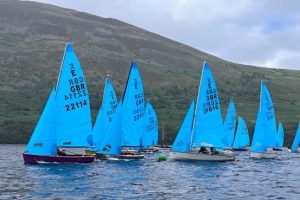 Come and sail in one of the most beautiful parts of the country
The 2022 Event gave us some great racing so make sure you get the Scottish nationals in your diary. 
3 races on Saturday and 2 on Sunday. Briefing 12.00, first race 13.00.
There are a few B & B establishments in the valley and the Gordon Arms pub (about 4 miles away) also has accommodation, however camping (tents or campervans/motorhomes) is free for the weekend and visitors are welcome to arrive on Friday and stay over to Monday.
Club bar on Friday and Saturday evenings
There will be a ceilidh (Scottish tribal dancing) in the clubhouse on Saturday after racing
Official catering includes breakfast on Saturday and Sunday; filled rolls, tea, coffee and snacks; full evening meal on Saturday and 'soup & roll' after racing on Sunday.
Unofficial catering: bacon/egg rolls @ midnight, Friday & after Saturday"s ceilidh.
If anyone would like to combine the Scottish Nationals with a tour of Scotland then you are welcome to drop your boat off  a week or two before the event or leave it for a time afterwards while you go exploring. Just let me know 🙂
Charles Morrish, 23089 and 22112