A Great Time In Perth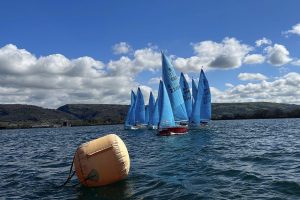 A fun weekend was had by all at Perth S C on the River Tay (under the M90 road bridge) where 10 Ents turned up to contest the latest round of the Scottish Bluebell series.
The bridge and valley sides cause vortexes and dead patches unless the wind is West/East along the river; on Saturday there was a lot of South in it and the wind on the water was very capricious.
The entertainment started with the first Ent to launch. Keith stood by and watched (arms folded) as crew Caroline was dragged into the Tay by their fully rigged boat, although unable to climb aboard, she hung on grimly as it made its way across the river. Eventually a rescue boat reacquainted Keith with his boat and he was able to help a rather soggy Caroline back on board.
Race 1. Charles and Alison got to the windward mark first but found a hole 'downwind' – Euan and specialist crew Morven sailed happily round them to take the lead and never be headed for the rest of the race. Paul and Duncan read the pressure and tide better to pull the same trick later in the race and take second leaving Charles and Alison third.
In both Races 2 and 3 Euan & Morven sailed away with Paul & Duncan following at a respectful distance, both boats leaving the rest of the fleet trailing. In the battle for third Callum & Mhairi were successful in Race 2 while it was Keith & Caroline's turn in Race 3. Charles & Alison were 4th in both.
After a wonderful BBQ organised by the hosts, the sailors were left to their own devices in the clubhouse. Louise and Keith were on the tunes while a number of 'sherbets' of great variety were consumed. A good time was had by all, though Duncan had a little difficulty finding his tent @ 2am after Keith and Callum decided it might be a good idea to 'relocate' it.
Race 4 Sunday dawned with a true westerly. Paul & Duncan were first to the windward mark but Charles & Alison were hot on their heels and hit the front to build a decent lead by mark 4. At that point Charles decided he should be heading back up the beat rather than sailing to mark 5 ….. Alison made him understand – eventually, but it was all a bit too late.
Euan & Morven and Paul & Duncan took full advantage to be 1st and 2nd respectively. Meanwhile after untying their knot at mark 4 Charles & Alison managed to pull back up to 3rd from 7th
Race 5 was the windiest and most hotly contested with final placings in doubt until the final beat. Euan & Morven were successful again for a clean sweep with Morven first over the line in every race. This time Charles & Alison managed to snatch 2nd with Keith & Caroline 3rd and Paul & Duncan 4th
Congratulations to Euan Dunn and daughter Morven for winning the event in such commanding fashion.
Special mention to Isaac Lewis, at 13 the series' youngest helm, who performed very respectably in all three races on Saturday but had to pack up and go to attend a prior engagement at St Mary's on the Sunday.
Grateful thanks to our hosts at Perth S C for the excellent hospitality and allowing the Ent fleet free run of the clubhouse on Saturday evening.