Scottish Areas at Forfar Sailing Club – 24/25 September 2022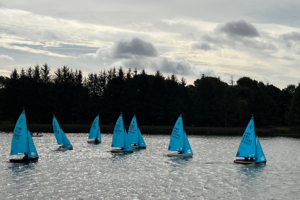 There were seven visitors, but unfortunately no home boats as Tony Walker was unfit to 'play' through injury.
Saturday saw a light and flukey northerly breeze, which at Forfar makes it very difficult to set a course with much of a beat.
Race 1: A reaching start was inevitable and Loz Young crewed by Duncan Willoughby got away well to lead for the first lap and a half. Behind them Rob and Olivia Wilkins were holding off Charles and Alison Morrish for second place. While they were battling it out, Paul Young and Emma Coleman sailed deep on the reach to pass both and take second for themselves while Callum Gibb and Mhairi Ogilvie pulled through to third. Disaster struck Loz & Duncan in the form of an unexpected hole, while they were 'parked' four boats slipped by. Paul & Emma took first, Callum & Mhairi were second and Charles & Alison third.
Race 2: The race officer was now able to set a course with a beat, albeit a very short one, but it was enough to make things more interesting. Charles & Alison got away well to grow a substantial lead but at the leeward end of the course they were becalmed and were caught as the breeze brought up the pursuing boats. Paul & Emma took the lead but Charles & Alison were able to get back ahead on the beat and hold on to take the gun.
Race 3: After another reaching start Loz, Paul and Charles arrived at the first mark together. Paul managed to get in front but by the end of the short beat Charles & Alison had taken first place with Loz & Duncan third. Paul & Emma again closed on the leaders at the now notorious 'parking lot' and led up the next leg but were again caught on the beat by Charles & Alison who went on to take the gun.
After an evening of great entertainment, a ceilidh, good food and much beer the weary sailors retired for the night.
Sunday dawned with a strengthening westerly, ideal conditions at Forfar for a long first beat.
Race 4: Charles & Alison got the best start at the starboard end of the line to build a comfortable lead towards the end of the first lap. They then nearly missed the next mark of the course, but for a very sporting shout from Paul in the second placed boat. Paul & Emma closed at the end of lap 2 but Charles & Alison managed to pull away on the beat. Meanwhile Rob & Olivia were going well in third until they went swimming following a gybe on the run. Loz & Duncan took advantage to pull through to third.
Race 5: At this point Paul & Emma needed to take first to win the event with Charles & Alison finishing third or worse. Charles & Alison again started at the starboard end while Loz & Duncan went for a port end flyer, It looked good for a moment but then they had to bail out as they realised they weren't quite going to clear all the starboard tack boats.
Charls & Alison were first to the windward mark and from that point on they were never caught. Paul & Emma sailed well to claim second and Loz & Duncan came in third.
| | | | | | | | | | | | |
| --- | --- | --- | --- | --- | --- | --- | --- | --- | --- | --- | --- |
| Rank | Sail No | Club | Helm | Crew | R1 | R2 | R3 | R4 | R5 | Total | Nett |
| 1st | 23089 | St Mary's Loch SC | Charles Morrish | Alison Robertson Morrish | (3) | 1 | 1 | 1 | 1 | 7 | 4 |
| 2nd | 22901 | Midland Sailing Club. | Paul Young | Emma Coleman | 1 | (2) | 2 | 2 | 2 | 9 | 7 |
| 3rd | 23054 | Largo Bay SC | Callum Gibb | Mhairi Ogilvie | 2 | (5) | 3 | 4 | 4 | 18 | 13 |
| 4th | 22114 | Derwent Reservoir SC & St Mary's Loch SC | Loz Young | Duncan Willoughby | (5) | 3 | 4 | 3 | 3 | 18 | 13 |
| 5th | 22108 | Dalgetty Bay SC | Robim Wilkins | Olivia Wilkins | 4 | 4 | (5) | 5 | 5 | 23 | 18 |
| 6th | 3687 | Perth SC & Royal Tay YC | Bob Watson | Anne Bryson | 6 | 6 | (7) | 6 | 7 | 32 | 25 |
| 7th | 20816 | St Marys Loch SC | Isaac Lewis | Michael Lewis | (7) | 7 | 6 | 7 | 6 | 33 | 26 |