Enterprise Open Hampton Sailing Club Report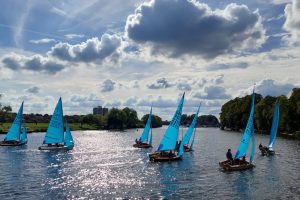 Sunday 11th September 2022
Light, southerly winds and warm, mostly clear skies welcomed us. With southerlies the breeze comes almost straight across the river Thames from the Surrey bank, giving race officer Derek May the dilemma of a windward start and a processional fetch up and down. Fortunately, there was just enough veer in the wind to have an upriver start. Eleven boats came to the line, much to the delight of the fleet captain, six from the home club and five visitors – one from Burghfield, two from Minima, one from Lensbury and one all the way from Birmingham.
After a short postponement, all boats got away with a tussle on the line for the windward Surrey bank. At the first windward mark up river, the first three got round cleanly and then there was a bunch who all fought for rights. Chris Rowsell had to pull out and go round the outside, as did others. Shortly after, Ann Jackson and Alan Skeens fresh from their successes in the Nationals flew away, chased by locals Chris and Ra Parker and John Hollands with the Commodore, Michaela Parker. In this fickle wind, the front was the place to be as the turbulent air behind played a big part. Race timing of just about an hour was perfect.
After a sustaining lunch by club members the second race was held in even lighter airs with yet again a scrabble for the outer distance mark. Once again Ann and Alan went to the front never to be caught.
The third and last race was held in the best wind of the day with some even hiking out. It was won by Paul Young with Ella Mason.
Overall results:
1. Ann Jackson and Alan Skeens – Burghfield S.C.
2. Ian and Susie Peerless – Hampton Sailing Club
3. Chris and Ra Parker – Hampton Sailing Club
After a sumptuous tea, prize giving was presented by the Commodore with Ann and Alan receiving the HSC Diamond Cup and The Thames Valley Ladies Cup. The River Trophy was won by Chris Rowsell and Alastair Stewart.
The Commodore and Ann thanked all who had run the event.
Philip Chambers Fleet Captain