Enterprise Nationals 2023 – Another perspective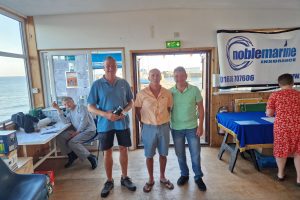 I recently bought an Enterprise as it seemed a pretty good boat to introduce my grandchildren (twins aged 6 and a 9-year-old) to sailing. The class is excellent value for money and I was able to find one quite easily. In fact, the boat I found was well kitted-out, with a few sets of sails and had been raced locally, so it was reasonably up-to-date in terms of the latest rules.
We sail in Christchurch harbour and although I have seen a couple of Ents around, I hadn't seen one race there, so I was "on my own" when I decided to enter a series race with a friend crewing.
It was then just over a month to go to the nationals and we both thought it would be a great experience to sail at Penzance and see how the experts do it. With this in mind, I contacted Ann Jackson, who I knew had sailed them consistently since I last sailed against her in one many years ago.
Ann couldn't have been more helpful – every rigging / tuning question I asked was responded to quickly, with long messages or references to online material. She was instrumental in encouraging us to join the fun – we had no choice now!
We arrived at Penzance on Friday evening, the night before the club officially opened for the event. However, Steve Sargeant had created a WhatsApp group of competitors and some PSC members, so I let them know I was coming. As soon as we arrived, both Colin and Lloyd from PSC showed up, gave us a friendly welcome, and helped us get the boat into the pound.
We were berthed next to Tim and Richard, the eventual winners of the event. They couldn't have been more helpful over the event, with tips on rigging and sailing the boat and assisting wherever they could. We were very grateful to Jon for taking time out to re-weigh our boat; and Julie for providing the updated measurement certificate accordingly.
In fact, without exception, I think just about every competitor in the fleet offered us help and advice at some point. I think our personal favourite, though, was on the Tuesday morning, when our boat was encircled with numerous people fine-tuning it. We had Dave from Looe lending us an entire kicking-strap system; Fresh splicing it onto our boat for the event; Nigel checking our mainsheet length (Fresh adjusted and spliced that for us, too); Tim and Richard discussing the centre main jammer and bringing a spare for us to use; Vince shortening the jib sheet; Ivan cutting it and borrowing a lighter for us to seal it. I've probably missed a few – sorry – there were too many of you.
Nicest of all though, was the welcome from the Club and the Class members. We had a brilliant time with a great group of people, with a fantastic sense of fun and humour.
So a huge thank you to all of you for making this the event it was. We can't wait to get to Looe next year. You don't have to win to be a winner!
Phil Sowden E22763
Come and join Phil and the rest of the Ent crew in Looe in 2024 .Registraion is now open for the 2024 Championships 27th July to 2nd August, We will race Sunday to Thursday with Friday as the rest day. No racing on Friday unless fewer than 6 races completed by Thursday evening. Registration form