2022 North Sails Scottish Nationals Report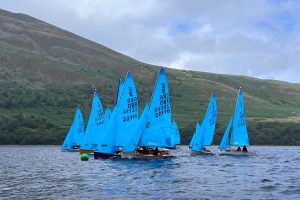 20 boats entered for the Scottish Nationals, three races were sailed on Saturday and two on Sunday
The wind on Saturday was Westerly F4 and Race Officer took the fleet further down the Loch for less shifty conditions.
Race 1. Loz Young and Duncan Willoughby 22114 got the perfect start to lead the fleet for almost the entire race. They were eventually reeled in on the final run as Martin Honnor and Isobel Hadley-Fenn came through to take 1st place while Richard and Millie Pryke were second leaving Loz and Duncxan 3rd
Race 2. Martin and Isobel battled it out with Richard and Millie exchanging places several times before Richard and Millie prevailed with Jonathan Woodward and Brandon Stark in 3rd
Race 3. Martin and Isobel were OCS and then retired with a broken kicker. Local boat 23089 (Charles Morrish and Alison) got away well to lead at the windward mark. Eventually they were reeled in on the run by Richard and Millie who pulled through to take 1st, Charles and Alison held on to 2nd while fending off the challenge from Jon and Brandon who had to be content with 3rd
After the usual Ceilidh, liquid refreshment and midnight bacon rolls the weary sailors retired to bed.
Sunday dawned still and calm with a forecast that was not promising for sailing. Much to Martin's relief (a discard would only apply if four or more races were sailed) the wind began to fill in from the north.
The race officer set a course with the leeward mark just in front of the clubhouse.
Race 4. The wind was patchy at times but it was enough to get the fleet away. Paul Young and Nathan McGrory 22901 got to the windward mark first. Gradually they were caught by persuing boats and Martin and Isobel took first place with Richard and Millie 2nd and Loz and Duncan 3rd
Martin and Isobel were now leading overall but with a 21st place discard they could afford no slip ups in the final race as Richard and Millie were well positioned to take advantage.
Race 5 As it happened Martin and Isobel kept the door firmly shut and led from start to finish pulling steadily away from the persuing fleet. Jon and Brandon took a comfortable second and there was quite a battle for 3rd with Paul and Nathan managing to hol off Richard and Millie and a late challenge from Charles and Alison.
Congratulations to Martin and Isobel on their victory and thanks to all at St Mary's for an excellent event.