Final results for the 2022 Allen Enterprise National Championships, Tenby SC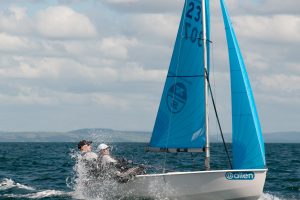 Celebrations began early at the Allen Enterprise Nationals at the end of Thursday as with one race remaining, Darren and Hayley Roach of Looe SC were announced as the clear winners with just 11 points over the eight races sailed. With a ten point lead, it was impossible for second-placed Jeremy and Becca Stephens to overtake them, but the Stephens had also secured a safe second place, ten points ahead of Phil Ford and Jane Humpage in third.
With the traditional Thursday night's rowdy fancy dress party at the club, Darren was the picture of "elf and happiness" as they celebrated along with the rest of the Enterprise and Redwing crowd. Despite winning with a race to spare, Darren admitted it hadn't been an easy win, having some closely fought duels with Jeremy and Becca Stephens. "We didn't come with any expectations," said Darren, "and with a 15-month old son, Hayley and I haven't raced together for several years. However, the weather suited us; we were powered up and with the shifty conditions you really had to get your head around the tactics." Jeremy Stephens agreed: "I knew Becca and I were in with a chance, but whilst we've sailed together a bit (since her return to the UK from Australia) we haven't had the benefit of any high-level racing together prior to this champs."
In third place, and with just two points separating Phil Ford and Jane Humpage from fourth place Martin Honnor and Isobel Hedley-Fenn and everything to play for in the closely bunched group behind them, there was an air of tense anticipation in the dinghy park as Friday dawned to light and fickle wind. With only one race scheduled and SI's dictating that it had to be completed by 14.00, the postponement flag kept everyone ashore until by 12.30pm, it was decided that there was not enough wind to run the race.
This is the first Enterprise national championship held since 2019, and saw many familiar faces as well as several new ones keen to come and have a go at a championship event in a popular holiday venue. Helms ranged in age from under 21 to over three score and ten, and crews of all ages, it was good to see a fair gender split with 50% female crews, and four women helms. A real family event, there were four father/daughter teams competing for the Generation Tray Trophy.
The class offered a warm welcome to newcomers including Ben Wilder and Matt Jones from London Corinthian SC, and William Griffiths and Alex Rich from Penarth, George Panter and Boyen Chestnutt from Ulley SC and Tom and George McLaren from Looe SC. As well as a variety of crew age and experience, this strictly one-design class ensured close competitive racing in boats that ranged from the new Rondar Mk3 models through to boats 30 years old.
First time helm William Griffiths said, "We've really enjoyed our first champs. We've been made to feel really welcome and had lots of encouragement from everyone in the fleet. It's also been a lovely family holiday." Ben Wilder, also taking part in his first nationals agreed. "The fleet has been really friendly, and given a lot of helpful advice both on shore and even on the water. It's great to get so much time out racing which has helped us learn more and improve. "