South West Areas Looe SC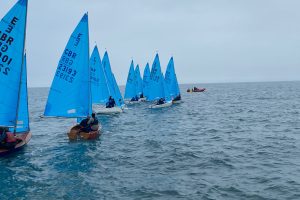 With the 2024 enterprise National championships scheduled for Looe next year travellers were keen to try out the water in readiness Phil Sowden and Gordon Jonas along with Wayne Williams and Dean Williams join the fresh faces at Lou sailing club for the 2023 SW area championships.
Nigel and Andy Bird showed their competitive intent before racing it even started by winning the Ginga award for bringing an RS200 main sale to an enterprise championship, sympathy was in short supply pop step column Dingle are ever sociable Commodore to provide a spare mainsail.
With a freshening force three to four southerly and an outgoing tide Quite a swell at the river mouth with the committee boat getting drenched on the way out and everyone advised to leave via the beach.
Race one started in a force three to four southerly and the fleet got away first time. Callum Dingle and scarlet Crago showed good pace for the first few rounds, but boat maintenance let them down with their kicker parting on the penultimate beat. Nigel and Andy bird backed up their win of the Ginga, combining strong pace and excellent sailing to take the first win with Darren Roach and Fresh Abendstern 2nd and local pairing Dave Jackman and Daisy Jaycock 3rd.
The breeze seemed to back off for the start of race 2 but there was enough breeze for some playing on the waves, Nigel and Andy again showed great pace to lead the fleet home with Jeremy and Becca Stevens, of Penzance 2nd and Darren Roach and Fresh Abendstern 3rd.
The breeze returned for the start of race 3, and everyone had to dig deep, having already completed two decent size races, as the race officer posted another four laps for race 3. This time the Birds didn't have it their own way and the depth of strength in the fleet started to show with them only managing 6th in the face of some stiff competition. Jeremy and Becca Stevens looked like they had built an unassailable lead, but they took a hitch left on the 3rd beat and it was enough to let the chasing pack back into the game with Darren and Fresh eventually taking the win and Matt and Ivan Jaycock taking 2nd place, Jeremy and Becca had to settle for 3rd.
There were some pretty tired bodies in the club by the evening, but everyone enjoyed a nice warming Chilli and some still had enough energy for the karaoke.
Sunday started with a six knot south westerly breeze and with everything to play for the fleet were pushing the line ensuring the first general recall of the weekend. Race 4 eventually got away with only one boat identified on course side. David Jackman Daisy Jaycock lead at the first mark and never looked like they were going to be beaten taking first place at the finish. Matt and Ivan followed up their second in the previous race with another second and Daren and Fresh kept their chances alive taking 3rd, Ann Jackson and Alan Skeens looked to have taken 4th place, only to be identified as the boat OCS leaving Nigel and Andy to take 4th and set up a final race showdown with Darren and Fresh.
With it all to play for in race 5 Darren and Birdy started alongside each other, birdie got the better of the start pulling ahead of Darren and forcing him to tack off in search of clear air. It was all very tight at the first mark with Birdie Darren and Anne neck and neck, Birdie and Darren, unable to see the next mark, headed low giving Anne and Alan the chance to break away and build a lead they never looked like surrendering. Darren and Fresh pushed Nigel and Andy hard for the next round and when they gybed to the left for the dead run Matt and Ivan pressed through to 2nd with Steve Sargent and Eloise Jaycock taking 3rd. Darren and Fresh secured 4th and, with Dave and Daisy taking fifth the Birds had to settle for 6th giving the championship to Darren and Fresh.
With four different winners across five races this event was another reminder of what top quality boat on boat racing the Enterprise gives. We look forward to seeing everyone in lieu next year for the national championships starting on the 27th of July.