Enterprise 8151, EOFO. (Reduced)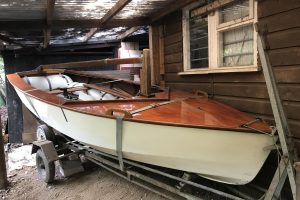 FOR SALE
Enterprise 8151, EOFO.
Built in1962 by A W Goodfellow and bought from PGL Holidays.
Sailed and raced at Wyboston (formerly SKEFCO) and Grafham Sailing Clubs. Measurement certificate.
White painted hull
Varnished deck
2 sets sails.
Launching trolley
Boom up cover
Various accessories
Road trailer (now in need of servicing.)
In fair condition for age and not sailed for years, always kept in dry, covered area.
Sold as seen, £300 (was £400), Beds/Cambs border.
Tel 01767 651855 ,
E-mail [email protected]