Penzance Nationals Pre Report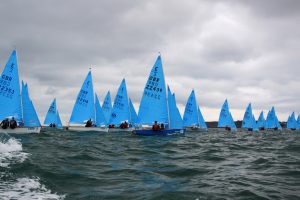 With summer approaching and the warm weather arriving early in sunny Cornwell, the UK Enterprise fleet have descended on Penzance sailing club for the 2023 National Championships.
 As many in the sailing world will testify, the waters of Mounts Bay offer probably the best sailing waters in the country bar none. On Saturday, teams from as far North as St Marys Loch in Scotland arrived in Penzance harbour for registration and last-minute adjustments for what was going to be a thrilling and competitive event, for the first time being held over 4 days rather than the traditional week.
The forecast promises sunshine and breeze everyday so everyone will earn their post-race beer this week.
This is going to be a tough championship to call with the change in format and some old faces returning for the first time in a few seasons.
 Tim Sadler has pulled the relevant strings to get Salty back in his wetsuit, while Vince Horey has convinced Fresh to take a turn in the Ent. Martin Honnor and Isobel Hedley-Fenn looked strong in 2022 and dominated the Inlands at BCYC in April, they will be looking to continue in the same vein when racing starts.
The Host club have entered a notable contingent with Lloyd Williams helming his own Ent for his first Nationals, leaving his former helm, Jeremy Williams playing hunt the crew.  Colin Stephens and Simon Lees at last get a go in their Rondar.
A big Ent welcome awaits Phil Sowden and Sebi Schmidt and their crews, who are joining us for the first time.
A massive thank you to Noble Marine Insurance who have sponsored discounted entry for youths and first timers along with the entry fee refund prize draw.