Double Chine Series Completes at Hunts Sailing Club.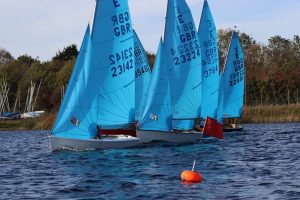 The sixth and final event in the Enterprise Midland Area Double Chine series was held at Hunts Sailing Club, combined with the D Zero fleet on Saturday 22nd October 2022.
Hunts SC, welcomed visitors from Nottingham, Rugby and Daventry and Midland sailing clubs on a lovely October day with warm sunshine and good force 2/3 south westly wind.
In the first race Martin Davies crewed by Rebecca Bradley (Rugby and Daventry SC) got away well to round the windward mark first, closely followed by Jeremy and Craig Taylor (Hunts SC), with Paul Young crewed by Louise Hassall (Midland SC) third. Paul and Louise planed down the first reach to get inside water at the gybe mark moving them up to second place. After a couple of more planning reaches and another beat the run proved challenging for both leading helms who were both going to the wrong leeward mark. Paul and Louise corrected this first, to take the lead at the leeward mark, now just ahead of Martin and Rebecca. Over the next couple of laps, the leading two boats exchanged the lead a few more times, however it was Martin and Rebecca who took the winner`s gun, Paul and Louise finished second with Jeremy and Craig third.
After a baked potato lunch, the second race started on the same course. An exciting start and first beat saw the top four boats arrive at the first mark together. Paul and Louise took the lead, whilst Jeremy and Craig tacked inside between Martin and Rebecca and the first mark, unfortunately hitting the mark as there was not enough room. Whilst Jeremy and Craig completed their penalty turn, Graham Kirkup and Hannah Hutchings (Hunts SC) now passed them to take third place. At the front Paul and Louise led around the three planning reaches but lost the lead on the following beat. Paul and Louise kept the pressure on Martin and Rebecca for a while but it was not long until Graham and Hannah caught them up. Paul and Louise managed to keep Graham and Hannah behind them for most of the time and eventually broke clear, but Martin and Rebecca now had extended their lead winning this race by a good margin. Paul and Louise finished second with Graham and Hannah third.
The third race was sailed back-to-back and would decide the second and third places. This time, Martin and Rebecca rounded the windward mark first with Jeremy and Craig close behind. Paul and Louise were in third place. Things remained constant for a while until the top of the beat on the second lap, when Paul and Louise made good use of a favourable wind shift to pass Jeremy and Craig at the windward mark. Paul and Louise then pulled away slowly to regain a little ground on Martin and Rebecca, who again sailed brilliantly to win their third race of the day, well ahead of them. The excitement was now for third place, on the last beat, a determined Graham and Hannah caught up Jeremy and Craig matching them tack for tack. At a photo finish at the committee boat, Jeremy and Craig just held on to third place by the smallest of margins, securing third place overall.
Martin and Rebecca`s win not only secured them the magnificent Houghton whale for Hunts SC, but also the Double Chine series trophy as Midland area champions.
Winning helm Martin Davies thanked all the volunteers at Hunts sailing club who gave up their time to give us a great day's racing.
Pictures courtesy of Helen Bailey. and Louise Hassall. (Click image to see full picture)