Severnside travellers series at Bristol Open meeting.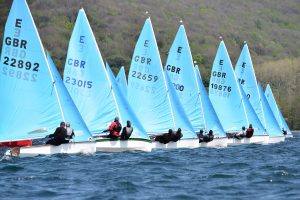 Bristol Corinthian Yacht Club open, on the 22nd of October was the last race of the Enterprise Severnside traveller's series of 2023. It may well be that last ever race of a Severnside series. Numbers have dwindled. From not many to very few. Now the only travelling sailors racing in the area are myself, flying the flag for Wales and Penarth Yacht Club. Ian Wakeling who sails his Enterprise out of Bristol Corinthian Yacht Club but now lives in Totness and Paul Young from the Midlands sailing club, Enterprise traveller extraordinaire who apparently came second in three different areas this year.
Bristol Corinthian Yacht Club is based on Cheddar reservoir just outside Axbridge, it is a very beautiful setting for sailing, I arrived in plenty of time for the 1130 start with my crew Jane Pickford. 5 minutes later Paul and his crew Lauren Morgan arrived from the Midlands. The reservoir looks like a millpond, but the forecast promised light southerly winds. We were joined on the water by Alice and Johnny Allen with their respective crews Chris Baker and Panos. The final boat on the start line was veteran local sailor Dave Marsten and crew Natalie Blake.
The race was started in very light winds, we all had to tack on to port, I was slightly late found myself in dirty air, tacked to the left-hand side of the course where to my surprise we picked up a little breeze. We sailed over the fleet and fetched the windward mark, we managed to hold this position for the next leg but Paul and Lauren got water at the leeward mark. Jonny and Panos having the best race of their day slowly reeled us in and overtook to take second place. Alice and Dave had sailed into a hole in the first beat and had too much to make up in the 4 lap race.
The wind was a little fresher in race two all though it was very shifty. Contrived to be late for the start again. This time tacked on to port and had a luck with the pressure again. Made the windward mark in 3rd place behind Dave and Alice. Dave managed to get away and won the race.
Race 3 was a close affair with the lead and positions changing regularly. Paul who had a poor first beat came through to second but could not get past Alice and Chris and her win in this race was enough to take the win in the meeting.
Bristol Corinthian Yacht Club open 22/10/2023

 

 

 

 

 

 

 
 
 
 
 
 

 

Helm

Crew

Boat

Race 1

Race2

Race3

2 from 3

POS

 

 

 

 

 

 

 

 

Alice Allen

Chris Baker

22501

-4

2

1

3

1

Paul Young

Lauran Morgan

22901

1

-4

2

3

2

Dave Marsden

Natalie Blake

23044

-5

1

3

4

3

Richard Leach

Jane Pickford

23140

3

3

-4

6

4

Jonny Allen

Panos

22894

2

-5

5

7

5
The South Wales area started in 1968 and the Dragon trophy was presented by Mrs Holland Mumbles Yacht Club in 1969. In the AGM of1982 it was decided to include Bristol Corinthian YC, The Shearwater sailing club and Frampton upon Severn sailing club open meetings in the South Wales area results. However, the name of the area according to the minutes book was not changed until 1987 when it became the Severnside area. There has been an Area travellers series, every non covid  year.
We reduced the qualifying events to two when Frampton upon Severn open was cancelled in the hope we would get a better turn out.
Three helm helms sailed three races in the series, a further 3 sailed two races. The inland championship at Bristol is included and Alice was second there. This with her victory in the open gave her total of three points. Paul Young also had three points, a first at the first Bristol Corinthian open and a second at the October open. He lost both the open and the Dragons trophy to Alice on the last race sailed.
 The series also has a separate crew's trophy, crew's results are calibrated separately and can be earned with the same or different helms. Only two crews did the two races to qualify Natalie Blake and Jane Pickford both ended with six points. Jane's two and a four, beating Natalies two threes.
The trophies were presented after the prize giving.
Richard Leach
Severnside Enterprise association chair.